Derby's Parks have been awarded Green Flag status
                                                   Pictured above: Darley Park Welcome Boards
Six of Derby's city parks have been recognised as being among the best in the world by the Green Flag Award Scheme. The parks achieving this international quality mark status are, Derby Arboretum, Alvaston, Chaddesden, Darley, Sunnydale and Markeaton Park. As the scheme marks its Silver Jubilee, Derby's Parks are part of the 2,127 celebrating success today.
The last 18 months have seen our parks and green spaces play a vital role through lockdowns for people to relax, exercise and meet friends and family safely. So the news that Derby's parks have achieved the Green Flag Award is testament to the hard work and dedication of the team that make the green spaces a great place that everyone can enjoy.
Derby Arboretum has also retained the much-coveted Green Heritage Site Accreditation, supported by Historic England, for the management of its historic features.
The contribution made by volunteers and local people has also been recognised, with the awarding of Community Green Flags to eight gardens, allotments, open spaces and nature reserves:
Ashbourne Road and District Allotment Association.
Chaddesden Wood Local Nature Reserve.
Chellaston Brickworks Local Nature Reserve.
Darley and Nutwood Local Nature Reserve.
the Hydrangea Garden at Darley Park.
the Walled Garden at Markeaton Park.
Sinfin Moor Park.
Little Chester Allotment Association.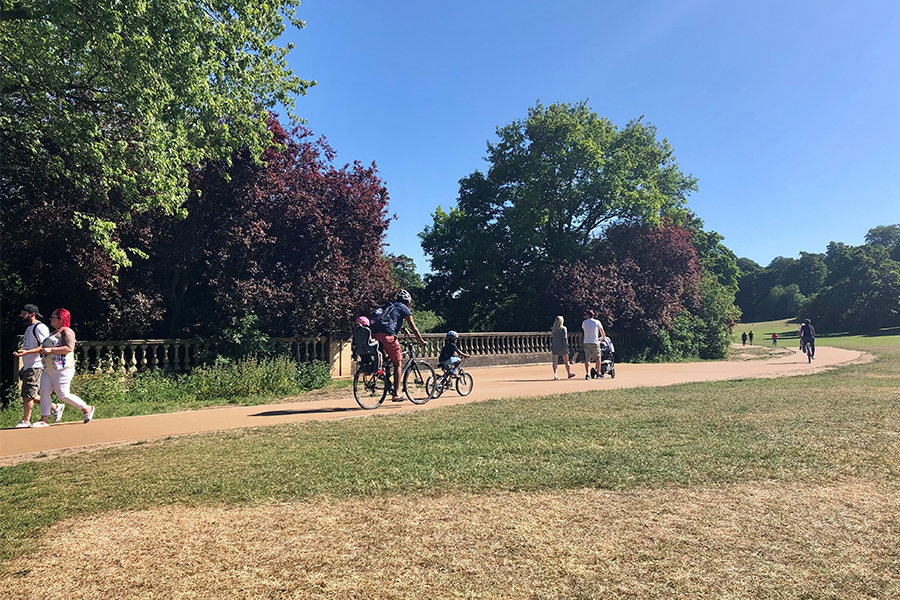 Pictured above: Darley Path
Commenting on the news that Derby's parks have achieved the Green Flag Award standard, Green Flag Award Scheme Manager Paul Toddsaid:"I would like to congratulate everyone involved in making Derby's Parks worthy of a Green Flag Award.
"To meet the requirements demanded by the scheme is testament to the hard work of the staff and volunteers who do so much to ensure that Derby's Parks have high standards of horticulture, safety and environmental management and is a place that supports people to live healthy lives."
Councillor Jerry Pearce, Derby City Council's Cabinet Member for Cabinet Member for Streetpride and Public spaces, said: "It is an honour for Derby's Parks to be recognised by the Green Flag Award Scheme. This international award is a testimony to the hard work, dedication and valued interest our Derby Parks and Streetpride teams, community groups and volunteers provide on a daily basis, ensuring our parks are places for recreation and for enjoying the beauty of our city's green spaces.
"As we slowly adapt and recover from COVID-19, the contribution, commitment and enthusiasm to ensure we all have green spaces to visit is recognised by the achievement of this award. So everyone who has played a role in looking after our parks and open spaces deserves to feel proud, including the volunteers who have taken a local space to their hearts."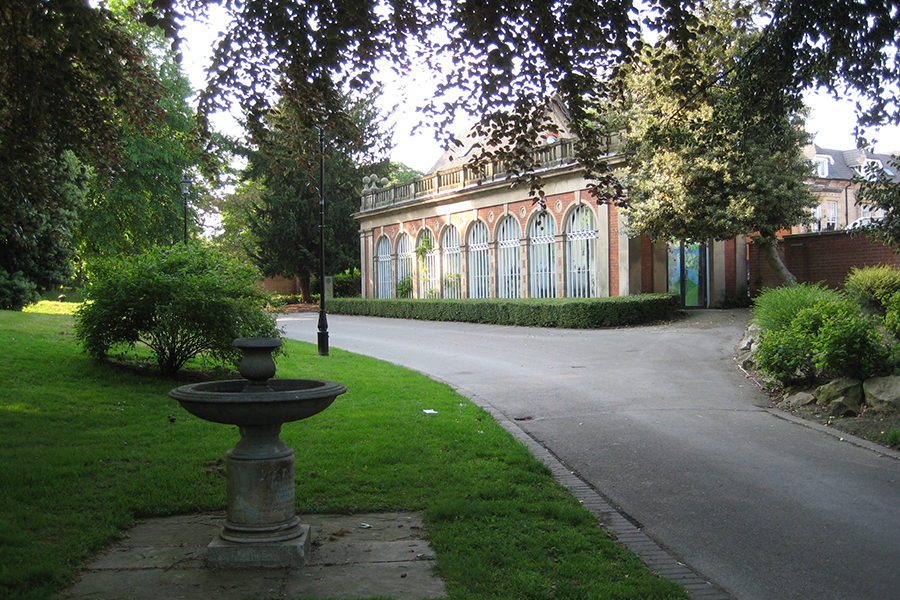 Pictured above: Orangery, Derby Arboretum, 2017
The team at Derby Parks have worked with volunteers and other organisations to adapt to the constantly changing situation with COVID-19, and as well as carrying out the day-to-day operation of the parks and making much-loved events return, often in a different way.
The Green Flag Awards Scheme, now in its fourth decade, is a sign to the public that the space boasts the highest possible environmental standards, is beautifully maintained and has excellent visitor facilities.
Chaddesden Park is an important focal point in the local community, offering an extensive range of sports, children's play areas, attractive parkland and in usual years, hosting community events such as The Big One.
Darley Park is a large, picturesque and popular park within walking distance of the city centre. The park boasts beautiful gardens including the largest hydrangea collection in Britain – which has won a Community Green Flag this year. It also hosts The Hannells Darley Park Concert, one of the UK's biggest outdoor concerts, which returned with an explosion of music and fireworks this year as the finale to the first Hannells Darley Park Weekender, which provided an explosion of music and fireworks while ensuring COVID safety of the crowds.
Sunnydale Park is a local nature reserve located in the Blagreaves ward of Derby. Covering 13.2 hectares and consisting of a variety of habitats, the park features a large balancing pond that provides a home for a whole host of wildlife. At present, major habitat restoration works are taking place, cementing it's status as an example nature reserve for years to come.
Alvaston Park is a picturesque riverside park in the east of Derby that offers a wealth of activities from fishing, exploring the unique science garden, riding BMX, playing football to enjoying a walk around the historic lake. Over the summer a number of smaller family fun days took place, replacing the usual one day large event.
Markeaton Park is Derby's most visited park and one of the most popular attractions in the East Midlands. Markeaton Park offers a wide range of activities from the Mundy Play Centre, the Craft Village and The Orangery café to sports activities, walks and gardens and events throughout the year. This year we welcomed the return of the Outdoor Theatre and Cinema Season, and the Cancer Research Race For Life event. Its Walled Garden has also won a Community Green Flag.
Derby Arboretum is known for being the world's first public park, opening its doors to the public in 1840. The modern day Derby Arboretum boasts beautiful heritage landscape, a superb collection of trees, the Heart of the Park community building, various sports facilities and events throughout the year.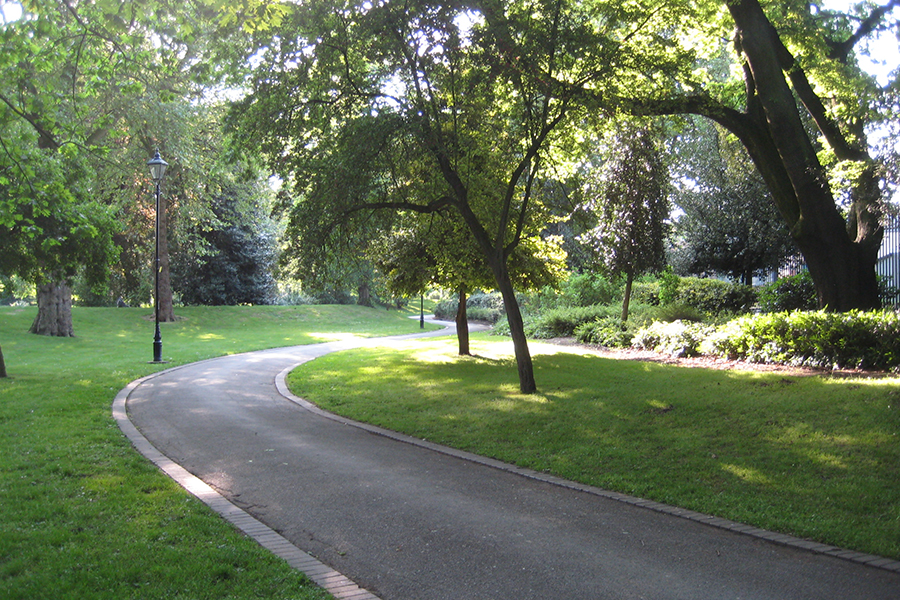 Pictured above: Serpentine Path, Derby Arboretum, 2017
Derby has over 300 parks and open spaces to enjoy, filled with things to do as a family, opportunities to get healthy, and beautiful trees and gardens.Find out what they have to offer.
The Green Flag Award scheme, managed by environmental charity Keep Britain Tidy under licence from the Department for Levelling Up, Housing and Communities, recognises and rewards well-managed parks and green spaces, setting the benchmark standard for the management of green spaces across the United Kingdom and around the world.
A full list of Green Flag Award-winning parks and green spaces is available here.