Hanging artwork at gallerytop
Hanging different sized artwork on a wall can transform a room. An eclectic mix of subject and style makes a space uniquely individual and projects the sensibilities and taste of the owner.  It's a balance of proportion, scale, spacing and colour combinations. Get it right and it looks great, transforming not only the space, but allowing the artwork to be seen in a new way.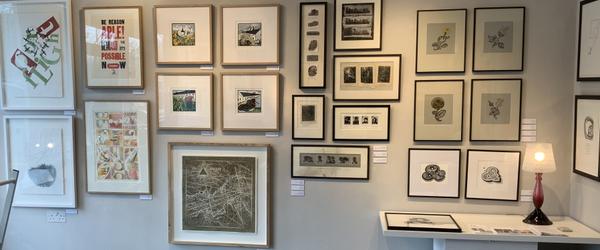 We regularly hang a variety of different work in the gallery and it's always a challenge. One of us may be thinking in rigid grids, like a book layout ,while another may be thinking of a freer or asymmetric approach. We have new work coming in frequently as well as the six to eight exhibitions we curate each year. There is always a huge sense of satisfaction (and relief) when a wall is hung with a beautiful collection of artworks which give the impression of being more than the sum of their parts. Prints are particularly effective for this type of hanging because there is such a variety and because of their affordability.
If you'd like to go eclectic in your interior spaces, visit our print section. We work with a superb framer so you can obtain advice on presentation, mixing and matching styles.
If you'd like to find out more about printmaking we have the Small Print Company in the gallery on Saturday 29 February doing a demonstration of Letterpress printing - watch out for more information